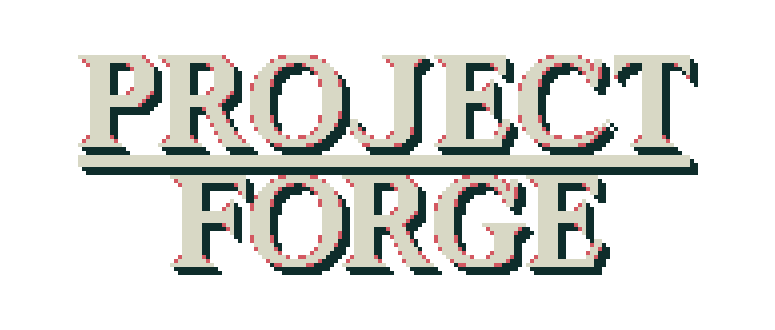 Project Forge
A downloadable game for Windows
About the Game
Project Forge is a board-builder roguelike that combines the mechanics of a card game and a board game. In a deck, every card has a direction it will take you towards, so you must arrange these cards to create interconnected pathways that will deal damage to your enemies.

The objective of the game is to descend to the bottom level of the dungeon and defeat the final boss. You may do so by any means necessary, such as skipping every stage or using the game's logic to destroy all who stand in your path. The dungeon is your oyster!
Prototype
This prototype is a quick mockup made for testing the concept of a game out. I will go into full development a couple of months from now using the feedback gotten from this, so make sure to comment with any criticism/ideas that you have!
I might release small updates from time to time to test different things out, so make sure to check out my Twitter page for development news!
Controls
The game uses Arrow Keys, Z, X and Shift in various ways depending on the current screen, so what each button does is labeled in-game.
Control will speed up the game while R will reset it. These are debug controls left in the game for ease of use.
Screen-wise, you can use S to alternate between two screen sizes and F to switch fullscreen on or off.
Credits
SFX are from 8-Bit SFX Pack by Beep Yeah! Everything else was made by me. If you're still reading this, thank you! Did you know you can use Spacebar to switch between color palettes in-game?
If you want to stream the OST, you can do so through my Soundcloud!
Glossary (Skip this for now)
Since I made this prototype as a way to test an idea rather than to be able to stand on its own, there are a lot of unexplained variables within the game, so I'll proceed to explain some of them here. I'd recommend playing the game first and then come back here if you have any questions.
Directions
| | |
| --- | --- |
| Single | Moves the actor one space in the direction it is pointing towards. |
| Double | Moves the actor two spaces in the direction it is pointing towards. |
| Choice | Any symbol with more than one arrow will allow the actor to choose between the directions shown. |
| Repeat | Repeats the last movement the actor performed. |
| Return | Returns the actor to the previous card they were at. |
| Stop | Does not move the actor. Think about it like skipping in place. |
| Random | Only appears in choice cards. Any card bearing this symbol will pick one of the directions at random. |
Effects

Damage
Subtracts health from the enemy.

Health
Recover/lose health oneself.

Burn
When using a card, it exhausts all of its uses, destroying it.

Freeze
It prevents a card from being destroyed, leaving it with 1 use.

Venom
Actor loses 1 HP every time they use a card.

Shield
Subtracts this value from every attack an actor receives. Does not block traps or venom.

Trap
Traps 1 card per row from the bottom upwards. Using a trapped card will lose the actor 2 HP.

Parry
When attacked, returns all damage back to the sender. Parried attacks cannot be parried*. Does not block traps or venom.

* I'll fix this eventually I promise.

Weak
Every attack an actor makes will have this value subtracted from it. Then, it will decrease by 1.

Strength
Every attack an actor makes will have this value added to it. Then, it will decrease by 1.

Shock
Going out of bounds* will lose the actor 2 additional HP. This can only happen once per turn.

* Due to limitations, only the sides display rays. However, this effect is applied to all sides.
Innate Moves

Going out of bounds will take the actor back to the board and lose them 1 HP.

Areas and Enemies
Backstage Colosseum
Flyhead
Woman
Cataract
Yorkshire Mills
Allen
Ballerina
Toasty
Knack
Sophie
Los Santos Chapel
Lillie
Venus
Queen
Hedgey
Syndicate
Downtown Abismos
Samson
Lactus
Zozo
Child
Skully
The Throne
Corey
Without counting The Throne and Backstage Colosseum, you will encounter only two of these rooms at a time. It's worth replaying the game at least once to see the area and enemies that you have missed!
Meta-Info
Forges crop up on the 2nd, 4th, and 7th floor. It's worth skipping enemies if it means making it to the next forge.
The Offset button on the inventory screen will shift your board downwards. You can use this to simulate how your board will look like in battles.
While on the map, enemies will start chasing if you get too close to them. Every turn, they alternate between prioritizing horizontal and vertical movement.
I left a debug super-weapon at the bottom of the inventory just in case you want to give the game an overall view without worrying about losing!
Known Bugs
Right now the only bug I know of is that if you walk from a crate on top of a half-platform onto a crate that's on a full platform below the player will float half a block above the ground. Since it's non-intrusive I made the choice to release the game with it. If you have any bugs you'd like to report post it in the comments or DM over on Twitter, ideas and banter are fine also!